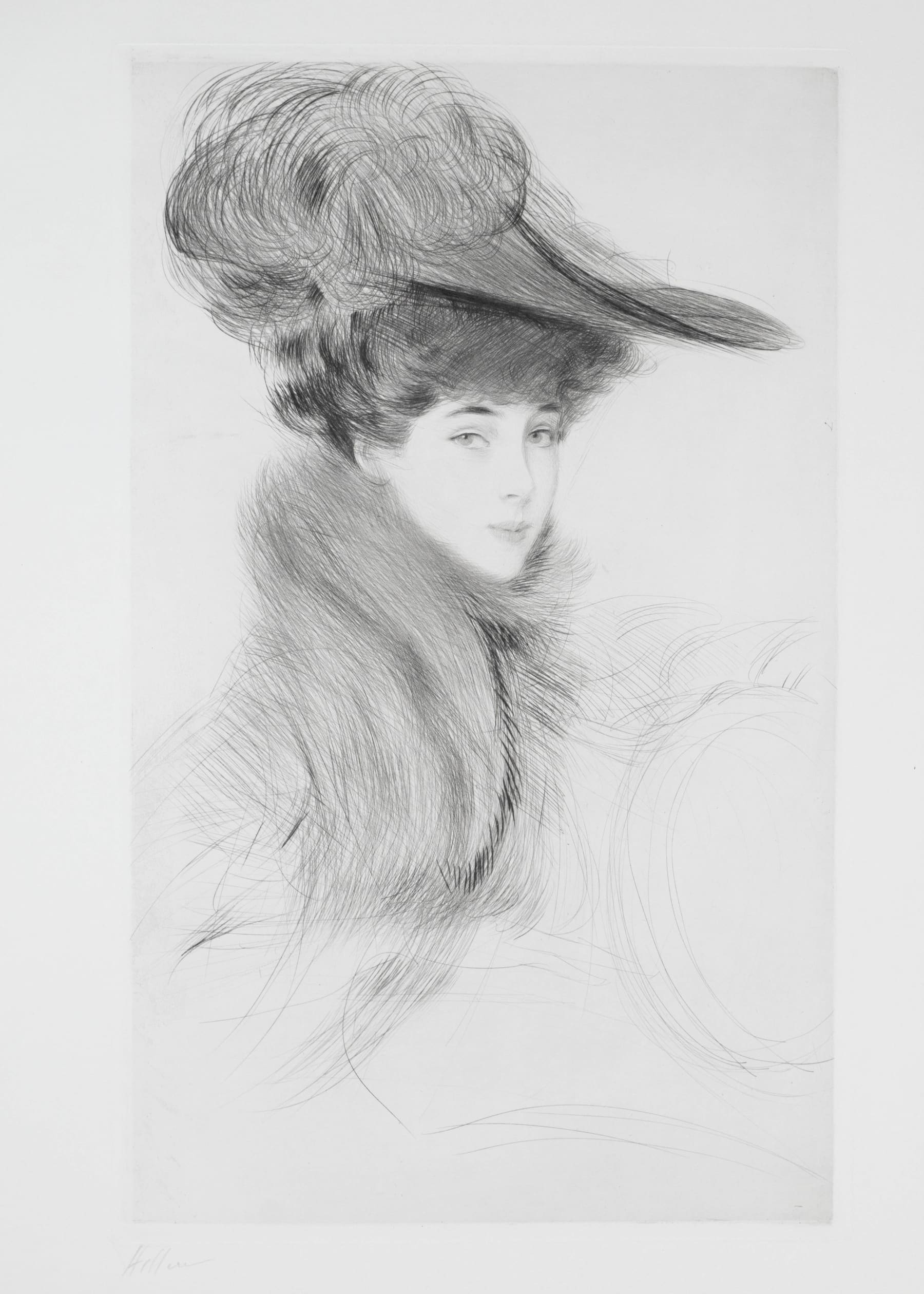 Artwork information
Dimensions
53 cm x 32.3 cm
Signature
Signed lower left
Proof(s) of authenticity
It appears in the database of the Association des Amis de Paul-César Helleu under the reference APCH: PS1-1045. This drypoint will be part of the artist's digital catalogue raisonné which is currently being finalised.
State of conservation
Very good
Description
Paul-César Helleu was born in Vannes on 17 December 1859. His father died when his son was very young, forcing his mother to run their Morbihan farm herself. Her success was such that she was the first woman to be decorated for agricultural merit. At the age of 14, Helleu was sent to Chaptal College in Paris, where she was not very interested in studying. He was above all attracted by drawing and he had a revelation of what painting was when he saw Manet's painting of the "Chemin de fer" at the 1874 Salon.

From that moment on, his decision was made: he wanted to be a painter. He left for Paris in 1876 to enter the School of Fine Arts. He was admitted to Jean-Léon Gérôme's studio. He soon became friends with young foreign painters, including Whistler, Sargent, Stevens, Madrazo, and O'Choa. Thanks to Raphaël O'Choa, he met Mr and Mrs Guérin, who commissioned him to paint the portrait of their daughter Alice who was then 14 and a half years old. Helleu fell in love with his model, whom he married two years later.

In 1885, he rented Alphonse de Neuville's studio and made his first attempts at engraving. James Tissot offered him a "diamond point" from England, which was the envy of all engravers. Sickert advises him in this new technique and it is he who will bite his first engraving.

In 1887, Helleu received a visit from a fan of his drypoints, who would remain a friend of the family throughout his life: Robert de Montesquiou. He bought him a batch of drypoints and promised to introduce him to Madame de Polignac. It was through him that Helleu was then put in touch with the Countess Greffulhe. In the spring of 1891, Countess Greffulhe asked Helleu to come to her Château de Bois-Boudran to paint her full-length portrait. This commission was at the origin of the vogue that Helleu would later enjoy. Sargent, Stevens and Monet praised his artistic production. Monet liked him so much that he asked him to be a witness at his second wedding in 1892. The French state decided to acquire one of his drypoints, in recognition of his immense talent.

In 1900, he engraved the portrait of the Duchess of Marlborough. To make this famous drypoint, Helleu went to England where, during his stay at Blenheim Palace, he made many drawings and a few other engravings. Helleu's style even influenced women's fashion and his name became a qualifying word. In front of such a type of woman, one says: "it is a Helleu", as one says today "it is a Picasso" to speak of an abstract canvas.

After many trips to the United States, on his return to France, he continued to make drypoints, in particular, intimate and family representations. His wife and children become his main inspiration. In addition, he donated to the Prints and Drawings Department of the French Bibliothèque Nationale, 50 engravings as a "summary of his art".

For information, the dimensions taken into account are those of the plate and not of the entire sheet.
Provenance
French private collection
Bibliography
• Femina, Editions Pierre Laffite, Paris, noël 1905, n°117, p.568
• Paul Helleu peintre et graveur, Robert de Montesquiou, Editions Floury, Paris 1913, Planche VIII
• Helleu et ses portraits de la Belle Epoque, Le Figaro, 17 mai 1957
• Helleu et ses modèles, Paulette Howard-Johnston, Revue des deux Mondes, décembre 1974
• La Gazette, La gravure en 1900: Deux chroniqueurs de la femme Helleu et Legrand, Blandine Bouret, 6 avril 1984, n°14
• Paul Helleu, cat. expo., Nevill Keating pictures LTD with Spink and son LTD du 23 octobre au 2 novembre 1984, Londres
• Paul César Helleu 1859-1927, cat. expo., Musée Bonnat de Bayonne du 01/11/1990 au 15/12/1990, p.37
• Paul César Helleu 1859-1927 an exhibition of oils pastels and drypoints, cat. expo., Galerie Richard Green 09/05/1991, Londres, n°32
• Exposition à La Cohue, Paul Helleu, peintre de la Belle époque, 24 juin 1991
• BUHART (L), « Helleu portraitiste du Gotha », Point de vue, 13 juillet 1993, n°2345
• BERGERET-GOURBIN et IMHOFF, Paul Helleu 1859 - 1927, cat. expo., Honfleur - Musée Eugène Boudin (03/07 - 04/10/1993), Alençon, 1993, p.58
• Paul Helleu twenty-eight drypoints, cat. expo., Galerie Lumley Cazalet LTD (20/05 - 18/06/1999), n°17
• Grand central terminal, 100 years of a New York landmark, The New York Transit Museum, Steward, Tabori & Chang, New York, 2013, n°41 p.91
• Frédérique de Watrigant (sous la direction de), Paul-César Helleu, Paris, éditions Somogy, 2014, p.68
• Arabella Strauss, L'avant scène opéra, n°170, couverture