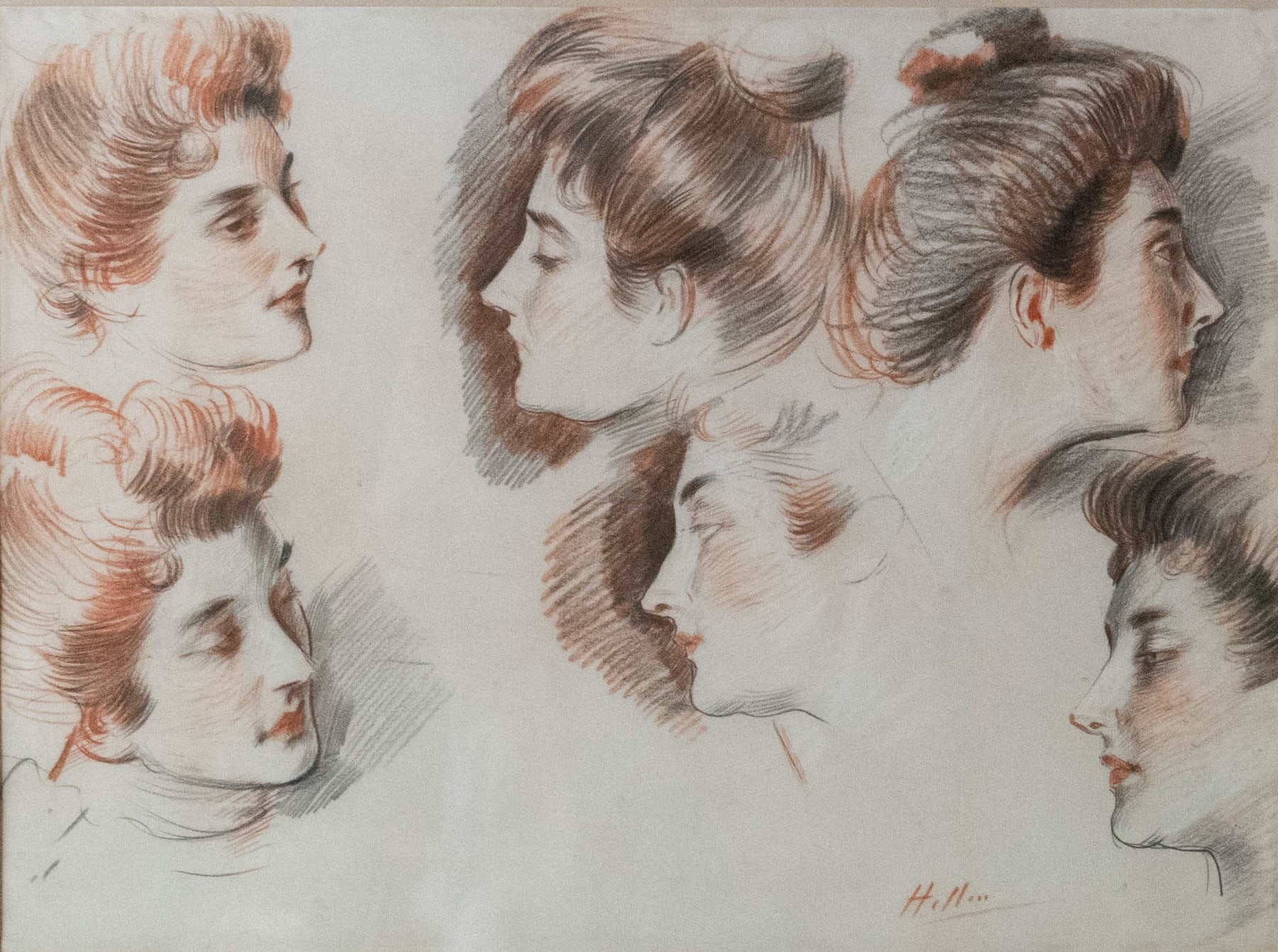 Artwork information
Technique
Trois crayons on paper
Signature
Signed lower right
Proof(s) of authenticity
This drawing is referenced in the database of Les Amis de Paul-César Helleu and bears the APCH reference: DE1-1749. This drawing will be part of the artist's digital catalogue raisonné which is currently being finalised.
State of conservation
Very good
Location
Aquitaine, France
Description
Trained by Jean-Léon Gérôme, Paul-César Helleu (1859-1927) took advantage of the academic training he received from his master. At a very young age, he developed a passion for Ingres and Watteau, which he studied assiduously. Helleu expressed his talent and freedom through drawing, using a few strokes of sanguine, black pencil and white chalk, which he mixed together to bring out all the charm and beauty of his models.

It is in the intimacy of his family that he has created with great tenderness the most beautiful of these "trois crayons" drawings and studies. This drawing is a perfect example, it represents Lucie Clarigny who was the sister of Alice Helleu, the artist's wife. This study is to be compared with Antoine Watteau's studies with "trois crayons" which made a large part of his fame.

This poignant intimacy through drawing shows us Helleu's tender sensitivity, a part of his art that he did not want to make known during his lifetime. Paul-César Helleu is not only a virtuoso draughtsman, a prolific artist, he mastered drypoint marvellously, oil painting and pastel. During his lifetime, Helleu met immense success on both sides of the Atlantic. A great friend of Marcel Proust, Charlie Chaplin, Santos Dumont, Claude Monet, Jacques-Emile Blanche, and many others, Helleu is one of the most talented artists of the Belle Époque.

This drawing has a quite remarkable provenance as it comes from the Devonshire Collection at Chatworth Castle, considered to be the English Versailles. The drawing was recommended by Paul-César Helleu's daughter Paulette Howard-Johnston to Diana Mitford, wife of the Duke of Devonshire.
Provenance
French private collection
Hirschl & Adler Galleries, Inc, New York
Posner Gallery, Milwaukee
RHR, San Francisco
Duke of Devonshire, England
Exhibition(s)
"Regards sur un port", Villa Ducontenia in Saint-Jean-de-Luz, France, from 16 June to 18 August 2019.