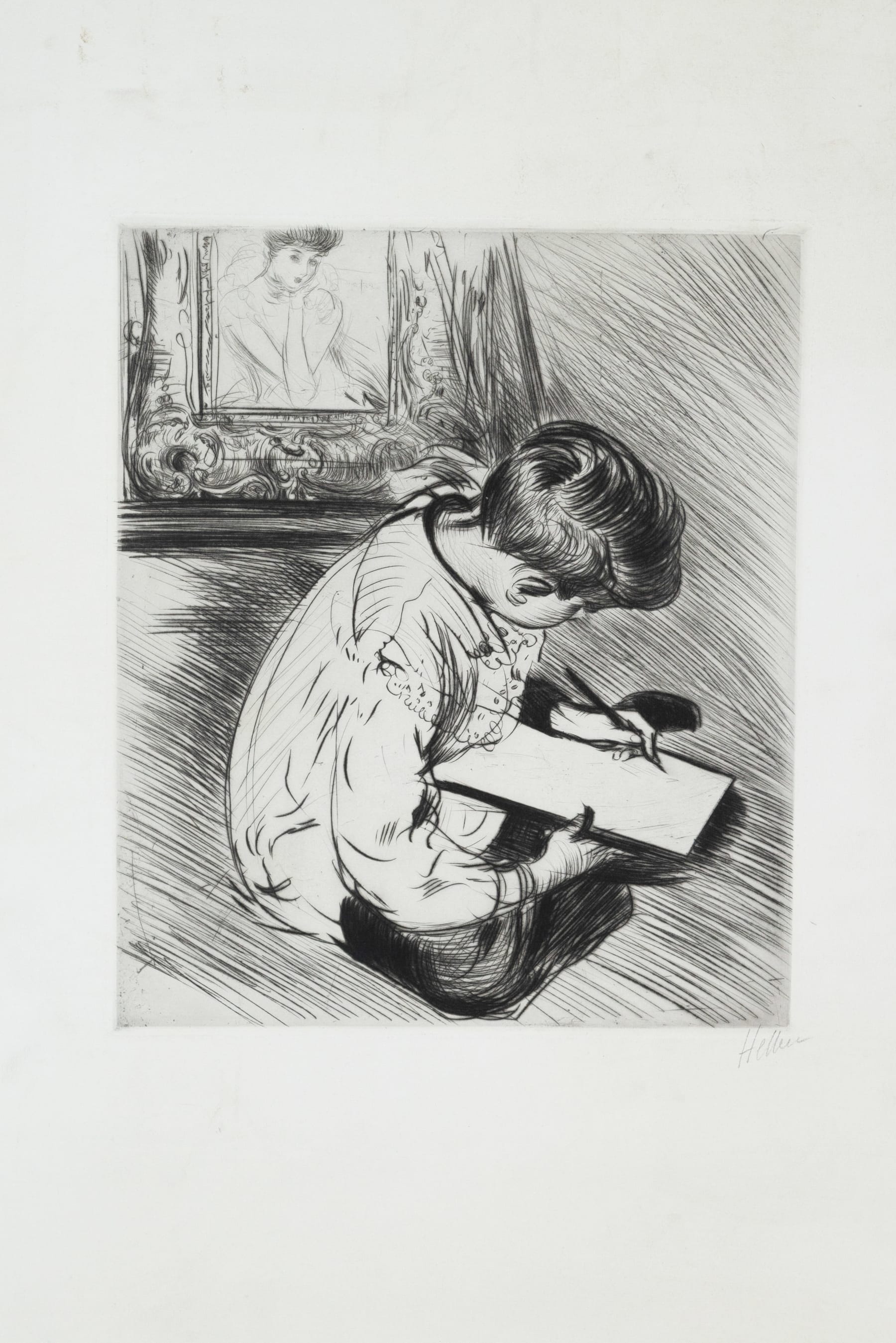 Artwork information
Dimensions
31.5 cm x 26.7 cm
Signature
Signed lower right
Proof(s) of authenticity
It is included in the database of the Association des Amis de Paul-César Helleu under the reference APCH PS1-1170. This drypoint will be part of the artist's digital catalogue raisonné which is currently being finalised.
The mention "10" is written on the back.
State of conservation
Very good
Description
The dimensions taken into account are those of the plate and not of the entire sheet. 12.40 x 10.51 inches (plate) - 26.02 x 17.24 inches (sheet).
Provenance
French private collection
Bibliography
• Paul Helleu, MAUCLAIR (C), Art décoratif, n°64, janvier 1904, p.2
• Paul Helleu peintre graveur, Robert de Montesquiou, Editions Floury, Paris, 1913, Planche X
• Inventaire du fond français après 1800, Jean Adhemar, Jacques Lethève et Françoise Gardey, tome 10, Paris, Bibliothèque nationale, 1958, n°388 p.223
• Paul Helleu, Drypoints, Lumley Cazalet LTD, Londres, 12 juin-31 juillet 1970, n°35
• Paul-César Helleu, Glimpses of the Grace of Women, an exhibition of drypoint, cat. expo., Galerie Knoedler, avril - mai 1974, n°5
• Helleu, Drypoints and drawings, Lumley Cazalet LTD, Londres, Juin – juillet 1983, n°33
• Paul Helleu 1859 - 1927, cat. expo., Musée de la Cohue de Vannes (15/06/1991 - 30/09/1991), 1991, p.27
• Paul-César Helleu, Frédérique de Watrigant, Paris, éditions Somogy, 2014, p.143