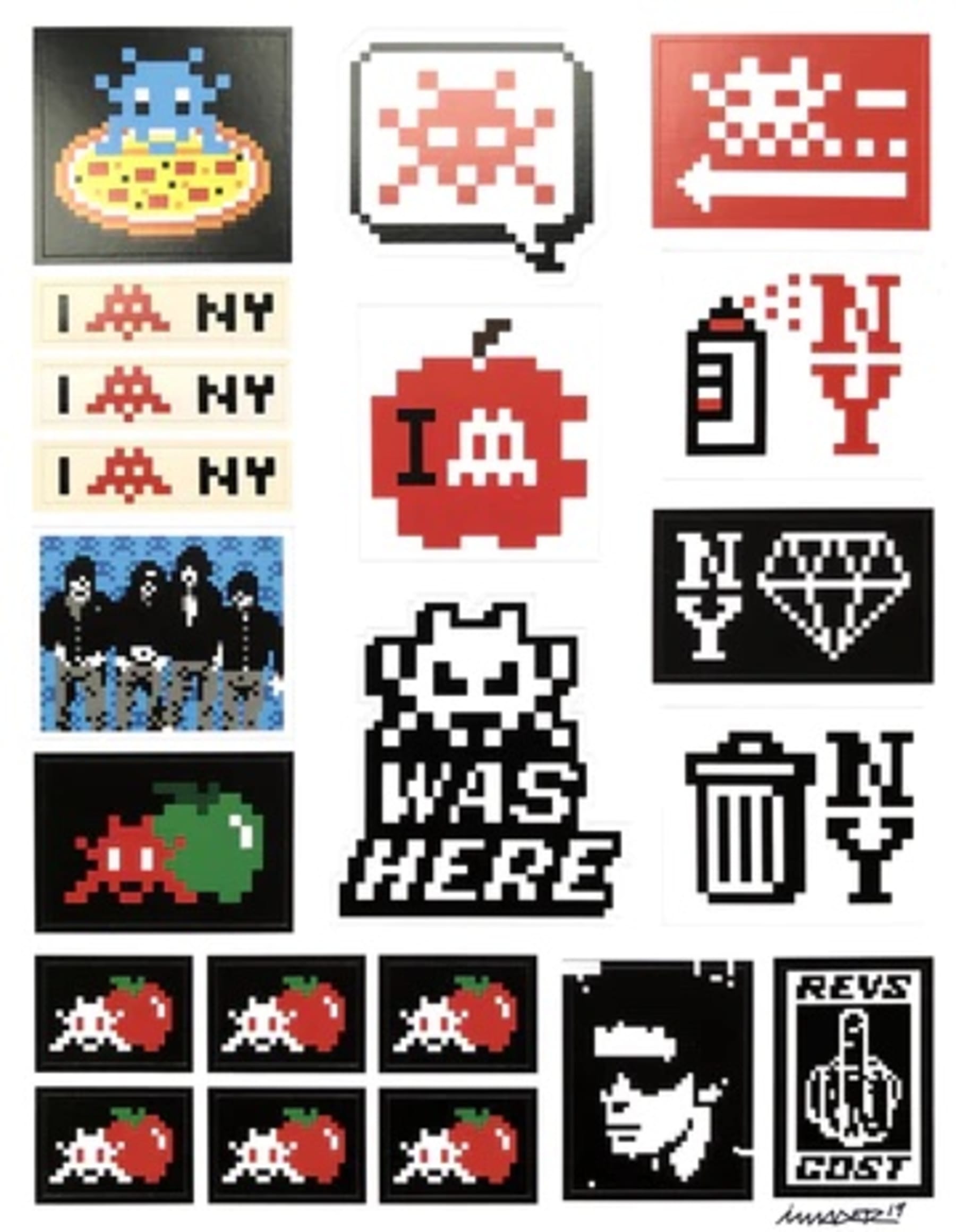 Artwork information
Dimensions
29.5 cm x 24 cm
Proof(s) of authenticity
Sold with a certificate of authenticity.
State of conservation
Very good
Location
Rhône-Alpes, France
Description
Deluxe Edition stickers volume 2 - Space Invader - Deluxe Edition - Signed limited edition of 200 Kiss Cut stickers - Measures 29.5 cm X 24 cm Approx.
This set includes stickers by Shepard Fairey aka Obey Giant and D*Face Shepard Fairey.

Deluxe book and numbered sticker folio on the cover including the same 125 stickers. THIS VERSION INCLUDES STICKERS SIGNED BY: INVADER, Shepard Fairey, Swoon, Ron English, Skullphone, Tara McPherson, Kristen Liu-Wong, Steven Powers, DB.

STICKERS 2 illustrates the timeline of the hobby, from counterculture to politics, its 2019 chapters include - Music: Punk Rock to Electronic Music, Skateboarding, Streetwear, Graffiti, Fine Art, Political Activism, but Volume 2 goes even further than its predecessor, with chapters on the origins of Surf culture and the world of BMX cycling.

STICKERS 2 is extravagantly illustrated with over 3,000 sticker images, organized by category and theme. The book includes work by artists as diverse as Tom Sachs, Jenny Holzer, BANKSY, Neckface, Marilyn Minter, ESPO, and Barry McGee, as well as amateurs who anonymously "tag" the streets. With texts by authors from many famous backgrounds - including Jeffery Deitch, INVADER, C.R. Stecyk, Mark Mothersbaugh, Paul Gorman and Stikman, to name a few.

Stickers 2 reveals not only the cutting edge of sticker art, but also the personal relationships that street artists and pedestrians share with the medium. This special deluxe edition of the book comes in a beautiful clamshell box and the hardcover book features a glossy dot print on the cover. This edition also includes a sticker folio containing 125 stickers that can be used as detachable sheets or individual cutouts. The stickers featured are from a truly amazing group of artists. The list includes: Jenny Holzer, Barry McGee, INVADER, Marylin Minter, Erik Parker, SWOON, FUTURA, Robert Lazzarini, Kenzo Minami, Kostas Seremetis, Kristen Liu-Wong, Anthony Lister, Ron English, Ryan McGuinnes, BAST, D*Face, Shepard Fairey, FAILE, Skullphone, Tara McPherson, Peter Schuyff, Swoon, James Hyde and more.