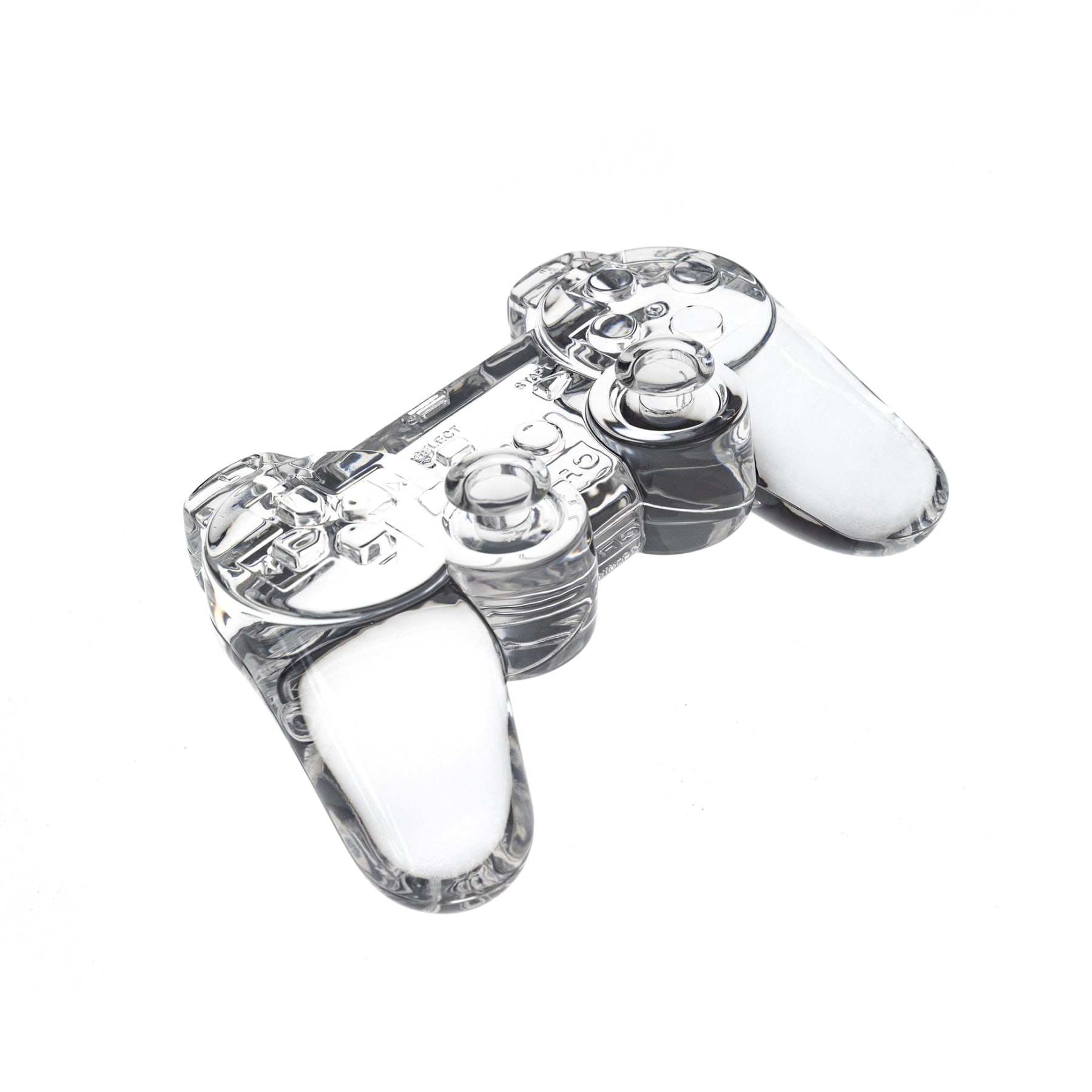 Artwork information
Dimensions
5.5 cm x 29.5 cm x 9 cm
Proof(s) of authenticity
This work includes holographic label verifying its Edition Number and Authenticity. The box has never been opened.
State of conservation
Very good
Location
Neuville-sur-Saône, France
Description
Rare and highly collectible pressurized cast resin (clear) sculpture based on the original Sony Playstation controller (1994).

The master of avant-garde crystal artwork has struck again, this time in the world of gaming. Taking the New Year by storm, Daniel Arsham has previewed the launch of his latest sculpture piece entitled the 'Crystal Relic 004', a playful and carefully crafted to-scale recreation of the iconic PlayStation controller. Needless to say, those who score the new sculpture will have Player One dibs for life.

The fourth release in Arsham's Crystal Relic series, the new PlayStation Controller is a faithful embodiment of the artist's mixed-modal design process. The sculpture is made of cast resin pressurized to be completely clear, giving an innately transparent aesthetic that captures light throughout the body. Limited to just 500 releases, each edition of Crystal Relic 004 will stand 55mm in height and spread 95mm wide, weighing just 295g, not that you'd be picking it up all that often. When you do, Arsham has been sure to include a pair of white art handling gloves.

"Its development has made a lasting impact on controller design from its first introduction," the official artist description reads. "CRYSTAL RELIC 004 comes in studio designed housing with die-cut foam, sealing label, and a pair of white art handling gloves. This is an edition of 500 pieces, and each CRYSTAL RELIC 004 includes a holographic label verifying its edition number and authenticity."

As a recreation of the original PlayStation form function, Crystal Relic 004 marks the continuation of Arsham's obsession with outdated gadgetry. In the past, the artist has played on the concept of old boomboxes and walk-mans, taking fans on a journey through a nostalgic playground of influences, each with a decidedly in geological. Over the course of his career, Arsham has utilized materials like ash and crystal, most notably through his archaeological relic line for Louis Vuitton a few years back.

Since then, Arsham has gained almost cult-like status, with celebrity admirers like Usher, Swizz Beatz, Jay Z and Pharrell Williams in his arsenal of collectors. Banking of nostalgia has never been a bad way to bring interest, but Arsham's approach to modernizing old relics has more than simply captured mass appeal, it has revamped it.
Provenance
Daniel Arsham Studio