Back to artists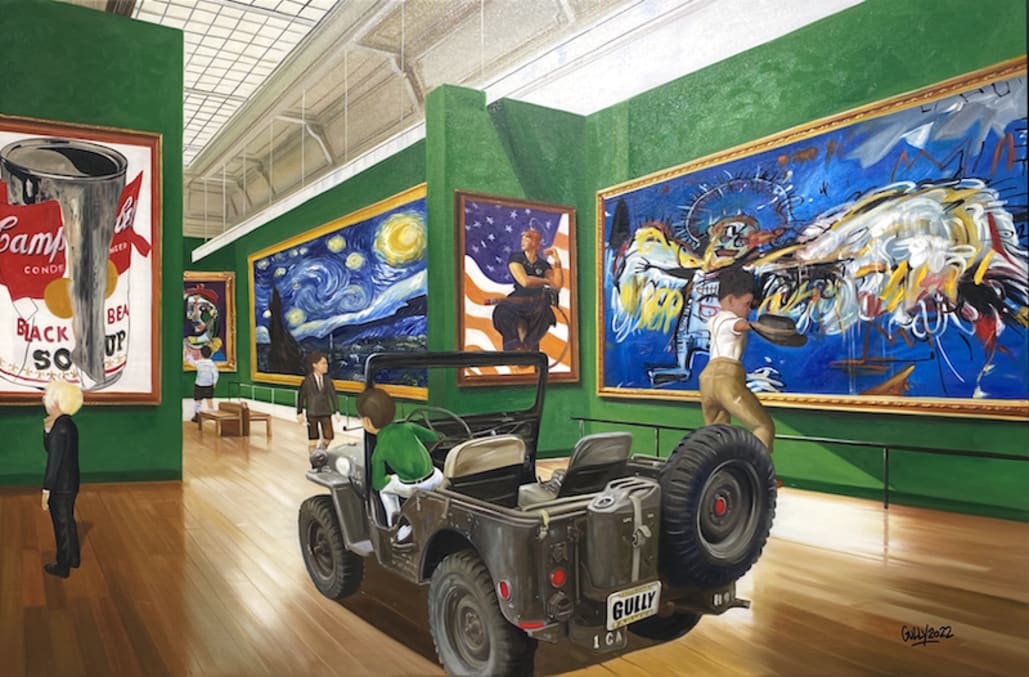 Gully
Famous artist
Born in 1977
Bio
Gully is an artist and graffiti artist born in France in 1977. He practiced graffiti from 1992 to the mid 2000's, then he made the choice to change his pseudonym to go from being a street artist to a studio artist.
Gully voluntarily hides his identity so that the stories he tells in his paintings take precedence over his person. Anonymity is thus a deliberate choice, but it is part of a different logic from that of Banksy or Invader. His work in the street had nothing to do with his current work on canvas.
The artistic approach of the painter Gully integrates subtle references to the history of art. "I borrow characters or existing scenes that I stage in my universe.". Gully does not copy the masters of art but quotes them, reinterprets them, integrates them into his compositions. All the great names pass there: Van Gogh, Seurat, Warhol, Basquiat, Calder, Remington, Hopper, Picasso, Dali, Magritte, Haring...
The world of graffiti is not put aside in his painting, indeed, the artist creates sometimes unexpected meetings between art and street art.
Gully tells stories of children amazed by art and more particularly by the paintings of the masters of painting in settings with sumptuous architecture. These little stories, which can be enjoyed as comic strips without dialogue, leave it to the viewer to imagine what the children are thinking or feeling.
The painter Gully has exhibited in art galleries such as Opera Gallery, Gilles Dyan, Galeries Bartoux in London, Paris, New York, Cannes, Honfleur, Singapore, Courchevel, Monaco, Miami, Dubai, Hong Kong and Seoul.
artworks
I want Art Shortlist to help me acquire a work by Gully