Back to artists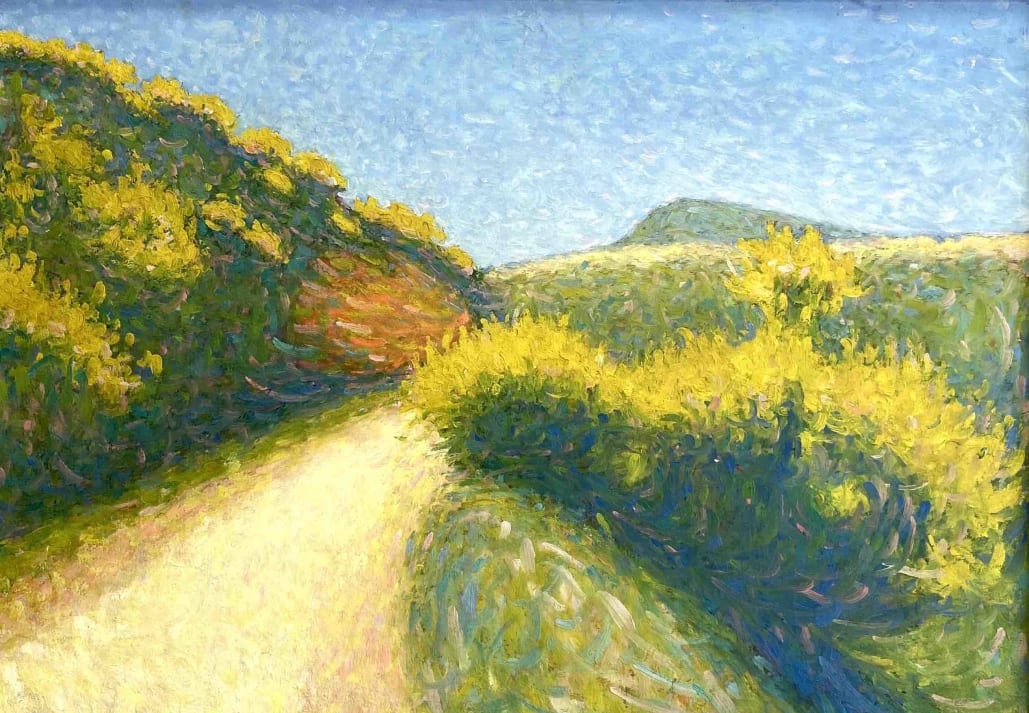 Achille Laugé
Famous artist
Born in 1861
Bio
Achille Laugé was born on April 29, 1861 in Arzens in the Aude. His parents were farmers, they intended their son to become a pharmacist. Between 1876 and 1881, Achille Laugé attended the Ecole des Beaux-Arts in Toulouse, at the same time he did an internship in a Toulouse pharmacy. During his studies, he met Henri Martin, Henri Marre and Antoine Bourdelle.
In 1882, he moved to Paris to 13 rue Radziwill and continued his education at the Ecole Nationale Supérieure des Beaux-Arts. Until 1886, Achille Laugé was a student of Jean-Paul Laurens and Alexandre Cabanel. In Paris, he met Antoine Bourdelle and Aristide Maillol who said of him: "It was Laugé who taught me how to stand a man up.". Achille Laugé shared Maillol's studio located at 79 rue de Sèvres until 1888.
During his studies, he was particularly influenced by the paintings of Paul Signac, Georges Seurat and Camille Pissarro. Upon his return to his native region, Achille Laugé concentrated on the division of tone and settled in Carcassonne and in 1891 married Marie-Agnès Boyer who gave him four children.
In 1894, he exhibited three oil paintings at the Salon des Indépendants and the feedback on them was not very complimentary, the Journal de Trouville wrote: "Carcassonne wanted to impress Paris."
During the same year, the newspaper La Dépêche exhibited several paintings in Toulouse, alongside those of Achille Laugé, there were paintings by Maurice Denis, Pierre Bonnard, Henri-Gabriel Ibels, Maxime Maufra, Ker-Xavier Roussel, Paul Sérusier, Henri de Toulouse-Lautrec, Paul René Georges Hermann, Louis Anquetin, Édouard Vuillard and Félix Vallotton.
Achille Laugé was notably supported by a circle of friends composed of Achille Astre, Jean Alboize, Achille Rouquet, Albert Sarraut and Maurice Fabre de Gasparets. In 1896, Achille Laugé decided to opt for the technique of fine cross-hatching.
When his father died, he settled in Cailhau and chose to lead a simple life in contact with nature. In the manner of Claude Monet with his "bateau-atelier", Laugé uses his cart-atelier ("Charrette-atelier" in French) in which he paints in the open air before returning to his studio. He continued his research into the aesthetic laws brought about by pointillism.
After 1905, his painting is freer and composed of broad and fluid brushstrokes, he mainly paints landscapes, portraits, scenes of life and still lifes. Achille Laugé died in Cailhau on June 2, 1944.
"Laugé could have been satisfied with being one of those small regional masters with picturesque paintings, endearing because they are characteristic of their native land. But he did not miss the great movement which, following impressionism, upset painting from the 1880s. The use of a very limited number of pure colors and the divided brushstrokes that appear in most of his work evoke a community of pictorial research with Neo-Impressionism. His orientation towards a new way of painting, associated with a poetry of his own, makes him more than the félibre who sings of his native Languedoc and gives him the dimension of a national artist." Nicole Tanburini
Achille Laugé has met with success in auction houses, particularly in France, the United Kingdom and the United States, which are the main markets for this artist. According to Artprice, the artist's market value has increased by 277% between 2000 and 2021.
I want Art Shortlist to help me acquire a work by Achille Laugé